Welcoming the class of 2026 on campus: NewsCenter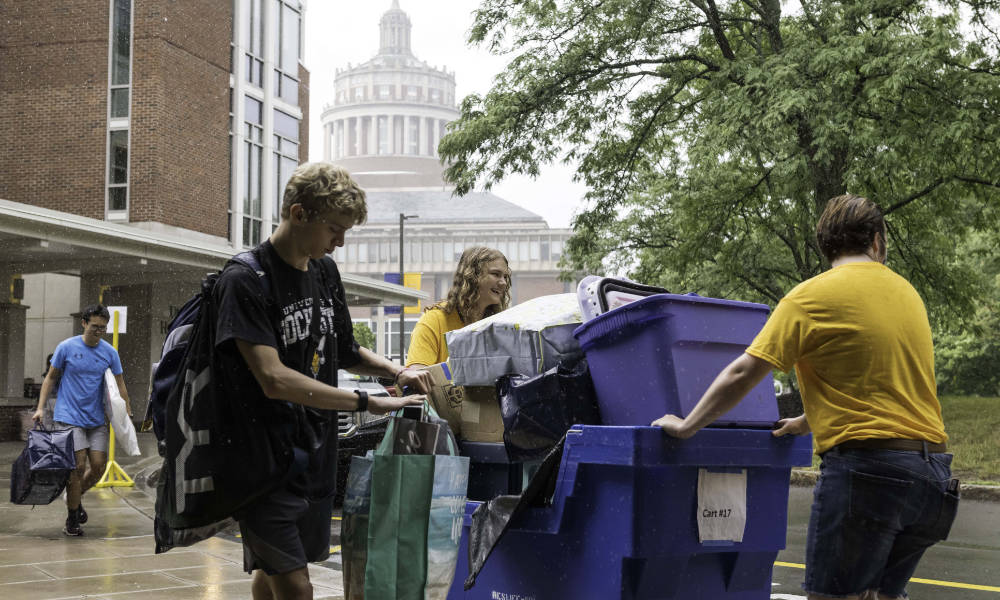 August 24, 2022



In a throwback to the tradition of moving in the day, more than 1,600 students from the College and the Eastman School of Music embarked on their experience in Rochester.
Freshmen and transfer students from across the country and around the world settled into the River Campus and the Eastman School of Music Campus at the University of Rochester this week.
The College's new Class of 2026 includes approximately 1,500 students from more than 40 countries and nearly every US state, as well as Guam, the District of Columbia, and Puerto Rico. International students make up 24% of the class, with a substantial increase in the number of Indian and South Korean students.
The Eastman School of Music is expecting approximately 130 freshmen from eight countries and 30 states.
It was the first time since 2019 that students, parents, staff and volunteers could roam campuses mask-free — with COVID-19 levels currently low — on move-in day.
"It's great to see people's faces again," said Dan Watts, acting executive director of residential living and housing services. "It's back to how it was. It's good that the students are starting their new college journey, moving in and meeting their roommates and their roommates' families.
Enjoy this look at the early days of the Class of 2026 on campus, with photos by college photographer J. Adam Fenster.
PARENTAL PRIDE: Kai Leeflang and his mother Kiyoko of Las Vegas, Nevada, walk towards the Student Living Center on the campus of the Eastman School of Music in downtown Rochester.
YELLOW JACKETS ON BOARD: Rows of cars fill parking lots at River Campus as families and loved ones prepare to help new students move into residence halls.
WELCOME WAGON: Despite the rainy conditions, current students and staff were ready to help incoming students transition to their new home.
HELP : Many yellow vests do light work moving into university residences.
MEETING WITH MELIORA: University President Sarah Mangelsdorf shakes hands with freshman Atreyee Ghosh of Alpharetta, Georgia, as her mother, Parna, looks on.
WHEN IT RAINS, MOM LOVES: Jennifer Daniels of Buffalo, New York waits for a downpour as her son, Joshua, settles into his new dig in the Susan B. Anthony Halls.
THE NEW CREW: Incoming international students lined up to receive their welcome bags at Wilson Commons.
AND RUSH RHEES MAKES THREE: Alin Sung and his father Hsiu Sung take a selfie with the Rush Rhees Library in the background to wrap up their move-in day activities.
Category: Highlighted