The first leg of the I-49 connection between Fort Smith and Texarkana will begin in 2024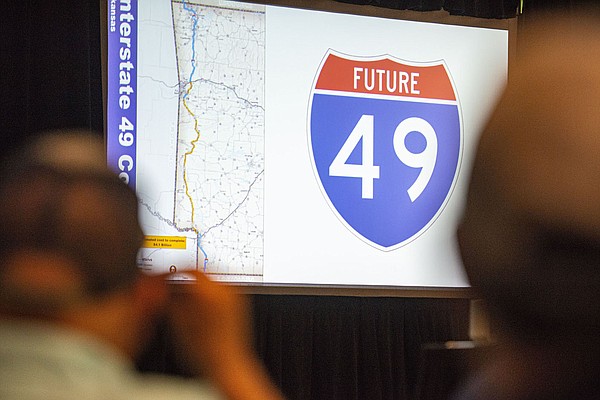 TEXARKANA, Ark. – A road south to Texarkana is one of the last pieces connecting Canada to the Gulf of Mexico via Interstate 49.
Connecting Fort Smith to here is among the final projects in the I-49 expansion plan, and work could begin in 2024.
Industry and government leaders met at the University of Arkansas-Fort Smith in July to discuss expanding I-49 — specifically a 14-mile stretch between Alma and Barling — that will would mark the beginning of the approximately 180-mile road connection between Alma and Texarkana.
The new section will be built in phases and is expected to have four lanes, at an estimated cost of $800 million, according to the Arkansas Department of Transportation. The work includes a new two-lane bridge over the Arkansas River, which is priced at $250 million.
ArDOT spokesman Dave Parker said the project is expected to begin in early 2024.
"The real dirt won't be moved and all that until the start of 2024," he said. "With the most aggressive schedule, if everything went perfectly well, we hope to have the 13 or 14 mile stretch completed by the end of the decade."
About 175 people attended the two-day event in Fort Smith to discuss the expansion project.
Texarkana commercial real estate developer Curt Green gave a presentation on the Interstate Project's potential positive impact on job creation, travel and trade.
Green is President and Executive Board Member of the International Coalition I-49 Foundation. According to the group's website, the coalition was formed in 2002, but Green said work on the north-south highway began years earlier.
"Since the late '80s, we've been pushing on this," Green said.
The first dialogue involved chambers of commerce and officials from Arkansas, Louisiana, Missouri and many other places interested in a high-priority corridor from Kansas City, Mo., to New Orleans.
"We have banded together in the I-49 coalition," Green said.
"Our goal is for you to be able to leave Winnipeg, Canada, take I-29 and pull to the Gulf of Mexico without a red light or a stop sign."
I-49 is currently connected from Fort Smith to Kansas City. Once Kansas City is reached heading north, it splits into I-29 to Winnipeg and I-35 to Duluth, Minn.
There are approximately 280 miles left to complete the route from Alma to New Orleans, with approximately 100 miles remaining in Louisiana.
Green said the coalition calls I-49 the "Mid-America Connection," because "it is what it is."
There are 12 states directly affected by I-49, with connections to I-29 and I-35. That's over 20% of the nation.
Green said Texarkana, in particular, will soon be in dire need of a wider road.
"You have US Highway 59 which has been upgraded to I-69 status. You have I-49 which goes through Texarkana. There is so much business coming out of Texas that we are about to have a hell of a traffic jam here in Texarkana, because I-30 can't handle it all," he said.
He said I-49 would be a relief valve in the Twin Cities.
"In Texarkana, we'll have I-30 coming through, I-49 and I-69 coming in. And cities that have that type of transportation are very, very growth-oriented."
Expansion in Texarkana would be good for trucking and attract business to the area, Green said.
"Companies need to have great highways to distribute their products. Great highways create jobs, there's no doubt about that," he said. "As the freeways go, so does the economy. I mean, look at all the cities where the major freeways go and where they cross."
Gar Eisele, Vice President of the I-49 Coalition, is based in Mena, Ark. He said the expansion project would bring immense value to his region.
"It's been proven that wherever I-49 has opened up in the past, economic development has been incredible," Eisele said. "Reports from mayors and others on the line where they recently opened, it's been an economic boom for them. And it will be for Mena as well."
Eisele also said it would provide more transportation relief in the event of natural disasters occurring in the south.
"After (Hurricane) Katrina, we had a lot of people in Mena, Arkansas."
Like various I-49 projects completed in the past, including recent ones at Shreveport and Bella Vista, Green said future projects after the Alma-Barling connection will depend on funding.
"The I-49 International Coalition, we're cheerleaders. We can't write a check to the Department of Highways or get money from them. But what we're trying to do is get help from politicians and influencers to get us to the top of the priority list so we can get more money for I-49."
He said the rest of the expansion into Texarkana will likely be piecemeal, with the eventual replacement of U.S. Highway 71.
"You would like to have a big check and be able to complete the project." said Green. "But what comes next just depends on what the federal Department of Transportation will give us in dollars."
Green said the coalition's next goal is to re-educate states north of Missouri of the benefits of a highway to the Gulf.
"There are 5,000 freeway projects in the country, and we're one of them. But we're a high priority, and we have many reasons why I-49 needs to be built."
(To learn more about the project and the coalition, visit www.interstate49.org.)