NTIA Chief Sees Billion-Dollar Middle Mile Program Progressing Rapidly, Encourages State Commitment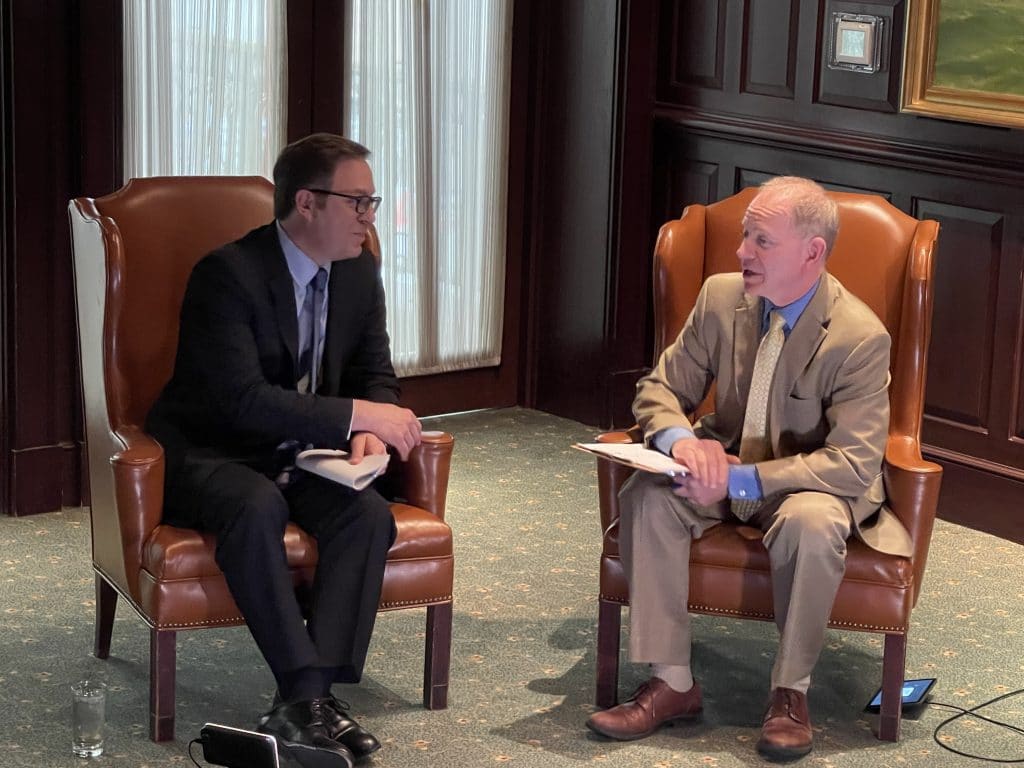 As the National Telecommunications and Information Administration (NTIA) prepares to administer the $42.5 billion BEAD Rural Broadband Infrastructure Funding Program, NTIA Administrator Alan Davidson said takes stock today at an event in Washington, DC. The event was also webcast (and can be viewed below).
Among the many broadband infrastructure funding topics discussed, Davidson seemed particularly optimistic about progress on the $1 billion Mid-Mile Program, part of the larger $65 billion Investment and Infrastructure Employment (IIJA), which was enacted late last year.
The $1 billion allocated in the IIJA for midstream network deployments could be awarded before the $42.5 billion for last-mile networks, Davidson noted. This is because, unlike the BEAD rural broadband funding program, the Mid-Mile program is not dependent on the completion of the FCC's Broadband Mapping Project.
"We expect this program to move forward quite quickly," Davidson said of the intermediate mile program. Noting that mid-mile projects can fund last-mile projects such as those funded by the BEAD program, Davidson said that "sequencing is an opportunity for us."
The NTIA cannot determine the amount of BEAD funding each state will receive until the FCC's Broadband Mapping Project is complete. This project, which is expected to be completed later this year, will determine the number of unserved locations in each state, which in turn will determine state funding.
State commitment
The NTIA takes a "customer service" mindset toward national broadband agencies that will be responsible for awarding funding to network operators in their states, Davidson said.
Asked what states should be doing to prepare for the program and in a nod to infomercials and telethons, Davidson joked that "operators are ready" to take calls from states.
The BEAD program is the largest component of the IIJA. The Notice of Funding Opportunity (NOFO) for the BEAD program is due next month and although Davidson declined to provide details on it, he offered considerable insight into the program during the Q&A session. today with the event sponsor. Broadband.Silverhosted by Broadband Breakfast Media's Drew Clark.
Open issues that will need to be addressed in the NOFO include how to define the low-cost broadband option that providers are required to offer, as well as consultation requirements with local stakeholders, Davidson said. Both initiatives are required in the IIJA, but the law did not provide details on their implementation.
The law also states that broadband at speeds of at least 100/20 Mbps must be made available to all unserved locations in a state (defined as those lacking broadband at speeds of at least least 25/3 Mbps) before funding can be allocated to building up underserved areas. without service at speeds above 100/20 Mbps up to this level.
This raises the question of how states should treat project areas that include both unserved and underserved locations. Davidson's response: "That brings us to the complexity of the whole issue."
He added, however, that the ultimate goal of the BEAD program is to allow everyone in the United States to have access to 100/20 Mbps service.
"It's an ambitious goal," he said, adding that "we're looking at it through that lens."
Matching funds requirement
The IIJA's requirement for network operators to contribute 25% of the cost of a BEAD project is a floor, not a ceiling, according to Davidson. An individual state could require network operators to contribute more than 25% of project costs, he said.
Davidson noted that this may be a reasonable requirement, given that much of the funding won in the Rural Digital Opportunity Fund (RDOF) auction is for companies that have committed to covering 50% or more of the project costs.