JB Hunt launches program offering carbon offset credits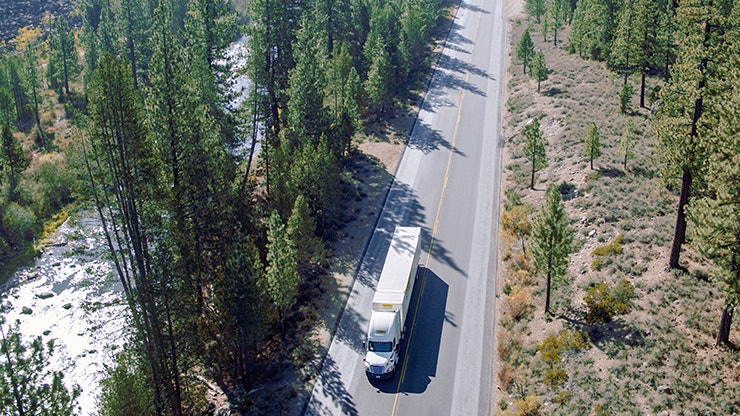 Trucking news and briefs for Tuesday, April 5, 2022:
JB Hunt launches new emissions credit program
JB Hunt Transportation Services (CCJ Top 250, n°3) announced the launch of Clean Transport, a new program which will allow its customers to acquire carbon offset credits equivalent to the emissions created by their shipments.
"JB Hunt is committed to leading the industry toward a low carbon future," said Craig Harper, Chief Sustainability Officer and Executive Vice President at JB Hunt. "Many of our customers are working towards both short-term and long-term sustainability goals, and Clean Transport will serve as an extension of the efforts they are already making to reduce the carbon footprint of their supply chain."
Clean Transport will help JB Hunt offset carbon emissions based on lane-specific activity each quarter. In conjunction with credible third-party organizations, JB Hunt will provide program participants with data indicating the amount of carbon offsets needed to complete a carbon neutral shipment and earn carbon credits supporting the customer's selected project.
Carbon offset projects include reforestation, forest management, regenerative agriculture and clean energy production.
Clean Transport is currently available to JB Hunt Intermodal customers and will expand to other service areas as the program grows. Customers can select which routes are part of the program, or JB Hunt can provide recommendations based on an assessment of the route's activity carbon footprint.
The carbon offset projects available through Clean Transport are verified and registered with recognized organizations such as the American Carbon Registry, Verra, Gold Standard and Climate Action Reserve to confirm that the reduction or elimination of emissions has been successful and that the expected environmental benefits have been achieved.
FMCSA Investigating Rise in HHG Complaints
The Federal Motor Carrier Safety Administration announced on April 1 that it conducted a special operation in February to investigate a significant increase in complaints about household goods movers.
The agency said that between 2020 and 2021, complaints to the FMCSA's National Consumer Complaint Database nearly doubled, from 4,340 to 8,295.
During its investigation, the agency looked at the top 100 carriers identified in the NCCDB. The operation took place Feb. 7-28 in 16 states and resulted in 586 consumer complaints being closed and enforcement actions taken against 63% of the carriers surveyed, the FMCSA added.