How far in advance should you plan your move from LA to NY?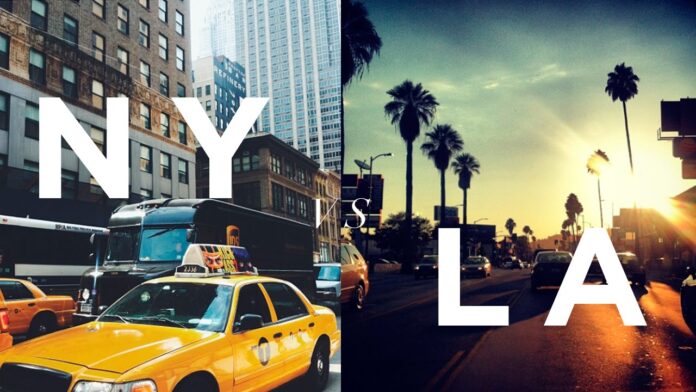 Everyone's dream is to live in New York. It is a city rich in culture, variety and opportunity. People worry about whether moving to NYC from LA is even a wise choice and what difference it will make in their lives. You will undoubtedly fall in love with New York. Even though these two opposite cities in the country attract more people from all walks of life, they both have a lot in common.
Moving from Los Angeles to New York is a major life change. This guide will tell you about the best neighborhoods in New York and how much time you need to plan the move.
The best places to live in New York
If New York State's rich culture, intriguing outdoor pursuits, and vibrant job market appeal to you, it might be time to move to the East Coast. Several factors, such as crime rates, commute times, housing availability and the quality of public schools, will impact where you choose to live.
Here are seven cities and towns in New York that offer the best the city has to offer when exploring relocation:
1. Lower East Side
The Lower East Side (LES) is a diverse New York City neighborhood steeped in history. There are many old dwelling structures in the area as it was a hotspot for European immigrants in the late 19th and early 20th century. The Lower East Side is a vibrant neighborhood with lots of concerts, trendy clubs, vibrant nightlife, art galleries, and Jewish culture.
2. Upper East Side
The Upper East Side offers larger and cheaper apartments than other Manhattan neighborhoods with a slower pace. Central Park is nearby, as are other community centers and schools. Second Avenue on the Upper East Side has a lively nightlife, with many lounges and Irish pubs.
3. Park City Battery
The Battery Park City neighborhood is located at the southern tip of Manhattan. To the south, north, and west, the Hudson River borders the neighborhood. The Financial District and the West Side Freeway are located to the east. Many structures in the area are skyscrapers, including Millennium Point and The Solaire, which are considered some of the best in the city. There are several workplaces in the area, so if you work in Battery City Park, it's a fantastic place to live.
4. East Village
The East Village is a bustling area with plenty to see and do. It's vibrant, innovative and a fantastic place to dine and drink. The famous St. Mark's Square is located in the East Village, which is also home to a plethora of entertaining things to do. Despite urbanization, this quirky, grubby neighborhood has retained many of its original features.
5. Manhattanville
Manhattanville, often known as West Harlem, is a small neighborhood in Manhattan. You will find industrial atmospheres mixed with residential neighborhoods in upper Manhattan. Columbia University's extension to Manhattanville has had a significant impact on the neighborhood, contributing to much of its quality of life.
6. Midtown Manhattan
Midtown Manhattan is the largest business district in the world, encompassing several neighborhoods on the east and west of the island, with plenty for locals and tourists to do. If you want to live in a newer, more luxurious high-rise, this is the place to be. The headquarters of the UN, as well as several important companies, have their headquarters there.
7. Murray Hills
Consider young college graduates having a good time. Compared to the surrounding neighborhoods of Manhattan, Murray Hill is a bit cheaper. There is a nightlife scene that encourages people to work hard and play hard. There are more affordable dining alternatives here, and the area is renowned for its many Indian restaurants. The majority of the buildings are new high rises, with some brownstone on the quieter streets.
How well should you plan your move?
Make a plan when you know you're moving
Your move could be in 90 days or eight months. Either way, it pays to stay on the ball. Are there any school registration deadlines you want to remember or any utilities you'll need to be introduced to the new place? Keep track of these important dates and different races in one document so you can refer to them throughout the cycle. You may also consider passing this document on to close relatives so that they can stay up to date and informed.
If possible, move out of season. Summer is one of the busiest moving seasons, making it difficult to cross the roads to your new home. Consider moving in the spring or fall when the weather is still nice but the streets are less crowded. Doing this transfer during the off season can also help you save money on movers. Visit moveeast.com to find more tips on safe and efficient moving from Los Angeles to New York.
Booking a professional mover
A cross-country move from Los Angeles to New York requires the use of a reputable long-distance moving company. First, you should speak with a reputable Los Angeles mover about your needs. It's also a good idea to check your budget and do some research before looking for an apartment.
You must book at least two months in advance, but 12 weeks is advised for the move during peak seasons (such as holidays). To be on the safe side, book as soon as you have settled most of the details.
Call as soon as possible if you are moving on short notice. The company you choose can arrange a move with only 1-2 days notice in select locations, depending on availability. Keep in mind that the closer your appointment is, the more flexible you will need to be.
Conclusion
All in all, there are pros and cons to migrating from Los Angeles to New York. Most importantly, before making a final decision, you need to weigh the pros and cons and prepare for what you will encounter once there. Prioritize your studies. Spend time researching or asking your friends who live in New York about their experiences.