Automotive industry Fuels | News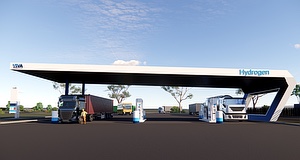 VIVA ENERGY has announced that it will build a $43.3 million new energy service station in the Victorian city of Geelong.
The company says the new facility will be the catalyst for a network of similar facilities stretching from Geelong to Sydney and Brisbane when it comes online in 2023.
Viva Energy says the facility will be Australia's first publicly accessible commercial hydrogen fueling station. The green hydrogen refueling center will also offer 150kW electric vehicle charging, bringing together "zero emissions technologies that will support Australia's energy transition", the company says.
The future new energy service station will be located in a highly visible location adjacent to Viva Energy's Geelong refinery. The facility provides access to major arteries and has existing access to high-voltage infrastructure and recycled water from the nearby Barwon Water recycling plant for on-site production of green hydrogen.
The facility will include a two megawatt electrolyser for the production of green hydrogen from recycled water from Barwon Water's North Water Plant.
Viva Energy says the facility is designed to facilitate the commercial deployment of hydrogen fuel cell electric vehicles, including those used in road freight, public transport, municipal waste management, water treatment and the general fleet.
The project received a $22.8 million grant from the Australian Renewable Energy Agency (ARENA) and an additional $1 million from the Victorian government through its Renewable Hydrogen Commercial Pathways Fund.
GoAuto understands ARENA's funding will contribute to both renewable hydrogen and electric vehicle infrastructure, as well as subsidize the purchase and operation of 15 hydrogen-powered FCEVs to help accelerate adoption. of FCEV.
ARENA funding for the FCEVs will be paid upon delivery of the vehicles. All vehicles will be purchased and owned by the project partners.
Toll Group, ComfortDelGro Corporation Australia, Cleanaway and Barwon Water have committed to purchasing hydrogen FCEVs for their respective fleets, which include prime movers, sewage and municipal waste collection vehicles and buses.
"We are delighted to be working with Viva Energy to build Australia's first publicly accessible hydrogen fueling station for independent fleets," said ARENA CEO Darren Miller.
"Experiences from Viva Energy and fleet vehicles using locally produced renewable hydrogen for refueling will provide valuable insights into the operation of different types of hydrogen-powered FCEV heavy-duty vehicles.
"This project will be a key opportunity for the early adoption of commercially viable hydrogen and a fueling station model that could be replicated across Australia as the price of electrolyser technology comes down," he added.
ARENA has already funded light-duty hydrogen FCEV projects with Toyota to build refueling infrastructure at their repurposed Altona vehicle production site to support passenger vehicles and forklifts, and BOC which will install a refueling station in hydrogen in Brisbane for fleets of passenger vehicles.
ARENA is also supporting Ark Energy in the deployment of five FCEV main engines between its zinc refinery and the Port of Townsville.
Viva Energy CEO and Managing Director Scott Wyatt said the project will provide a holistic solution for hydrogen vehicle delivery and overcome the "chicken and egg" challenge that has traditionally been a major hurdle for the sector.
Wyatt said the project illustrates the benefits of industry and government working together to address carbon emissions in the commercial road transport sector.
"Our existing partners have taken this journey with us, and we share their excitement about what it means for the future of zero-emission transportation," he said.
"This project puts hydrogen-powered vehicles on the road to prove their value in daily business operations while reducing the carbon footprint of the heavy-duty transport we rely on every day."
Initially, Viva Energy says several vehicles will be sourced from Australia and Europe via Hyzon Motors, while ComfortDelGro Corporation's two FCEV buses will be manufactured and delivered by Australian manufacturer Aluminum Revolutionary Chassis Company (ARCC).
The company says it is also in talks with a number of potential partners and hydrogen vehicle manufacturers regarding the purchase and delivery of the remaining vehicles.
"This funding from ARENA has opened the door for Viva Energy to work with long-term customers to demonstrate the important role hydrogen will play in the future of transport in Australia," Mr Wyatt said.
The Road to Recovery Podcast Series