And the winners are: NNBW 2021 Best In Business Competition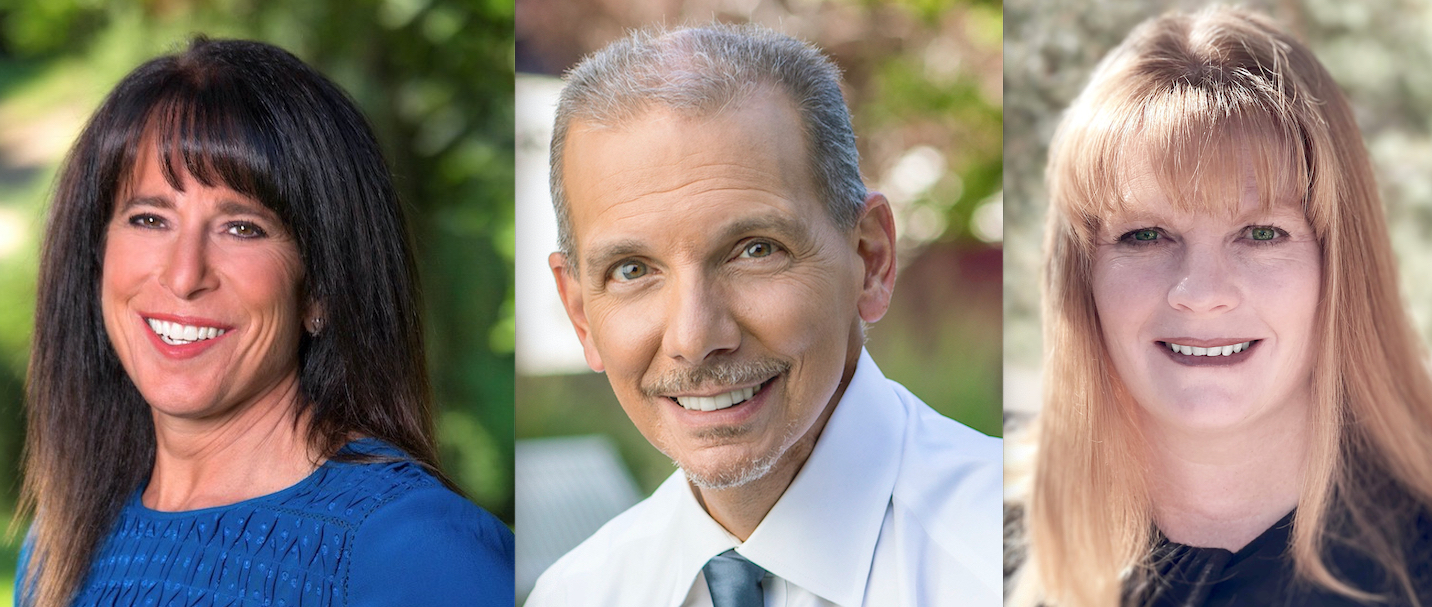 From left to right: Karen Purcell, winner of Leader To Know (High Profile); Dr Anthony Slonim, winner of the Most Influential Professional Award (Opinion Leaders); and Amber Howland, winner of New Nevada Innovator (Movers & Shakers). Courtesy photos
Northern Nevada Business Weekly is pleased to announce today the winners of our 2021 Best In Business competition.

The winners were determined after a nomination period from August 18 to September 7, followed from September 22 to October 7. 5 voting period, which led to a total of
180 finalists – 10 in each of 18 categories
.

Below is the list of the 18 winners and finalists. Go
here to learn more about each winner
.
You can also find out more about each winner in the 14th Annual Northern Nevada Book of Lists, the 132-page trade magazine for subscribers with the December 29, 2021 print edition of the NNBW.

Interested in purchasing additional copies of the Book of Lists? Go to nnbw.com/book-of-lists to learn more about print and digital options.

And contact Melissa Saavedra, Associate Editor of NNBW at [email protected] to learn more about our annual Best In Business competition.
Also you can go here to see the 2020 competition winners.
---

NORTHERN NEVADA BUSINESS WEEKLY 2021 BEST IN BUSINESS WINNERS

PEOPLE

Most influential professional (opinion leaders)
FIRST PLACE: Anthony Slonim, MD, DrPH, FACHE, President and CEO, Renown Health
2nd: Mark Estee, chef and restaurateur, Reno Local Food Group
3rd: Britton Griffith, Vice President of Operations, Reno Engineering Corporation
Leader to know (high profile)
FIRST PLACE: Karen Purcell, PE, President, PK Electrical, Inc.
2nd: Marilyn D. York, Exclusive Family Lawyer and Owner, Lawyer Marilyn D. York, Inc.
3rd: Rod Jorgensen, Senior Business Development Advisor, Nevada Small Business Development Center
New Nevada Innovator (Movers & Shakers)
FIRST PLACE: Amber Howland, President, Dragonfly Media LLC
2nd: Cam Sorenson, Director, Nevada Human Resources Team
3rd: Adam Kramer, CEO, Ledger8760
---

CORPORATE COMMUNITY

Most philanthropic company (Community Give Back)
FIRST PLACE: Renowned health
2nd: United Federal Credit Union
3rd: Atlantis Casino Resort Spa
Most sustainable company (green and respectful of the environment)
FIRST PLACE: Atlantis Casino Resort Spa
2nd: Reno bike project
3rd: Elemental LED Inc.
Most diversified company (diverse workforce)
FIRST PLACE: Renowned health
2nd: Atlantis Casino Resort Spa
3rd: The Abbi Agency
---

BEST IN BUSINESS

Best accounting firm
FIRST PLACE: Albright & Associates
2nd: Eide Bailly
t-3e: Barnard Vogler & Co.
t-3e: CPA Keystone
Best Bank Lender / SBA
FIRST PLACE: Bank of Plumas
2nd: State Bank of Nevada
t-3rd: First Independent Bank
t-3rd: Meadows Bank
Best Commercial Real Estate Company
FIRST PLACE: Dickson Commercial Group
2: Kidder Mathews
3rd: LOGIC Commercial Real Estate
Best Commercial / Residential Developer
FIRST PLACE: Dermody properties
2nd: Tolles Development Company
3rd: Di Loreto Houses of Nevada
Best company / construction company
FIRST PLACE: Newtron
2nd: Brycon Corp.
3rd: United Construction Co.
Best credit union
FIRST PLACE: United Federal Credit Union
2nd: Greater Nevada Credit Union
3rd: A Nevada credit union
Best hospital and healthcare provider
FIRST PLACE: Renowned health
2nd: Carson Tahoe Health
3rd: Northern Nevada Medical Center
Best Law Firm
FIRST PLACE: Lewis roca
2nd: Allison MacKenzie
3rd: Fennemore
Best Loan and Title Company
FIRST PLACE: First Centennial Title Company of Nevada
2nd: Signature title
3rd: Home equity loans by the Bay
Best Manufacturing / Logistics Company
FIRST PLACE: Novo logistics
2nd: STI logistics
3rd: ZLINE kitchen and bathroom
Best Residential Real Estate Company
FIRST PLACE: Sierra Nevada Properties
2nd: Dickson Realty
3rd: Properties of Stitser
Best Company / Tech Company
FIRST PLACE: Sierra Miles LLC Group
2nd: Dragonfly Media LLC
3rd: BluePeak technological solutions